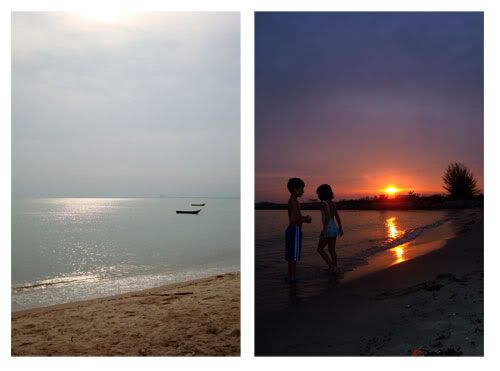 Kemaren kita pergi ke Post Dickson, us with Nita's family. Kita sampai persis sebelum sunset tiba. Perfect moment to capture many beautiful photos!
Tau gak? kalo jam sekitar 7-8 sore waktu Malaysia, atau sekitar 6-7 waktu indo, kurang lebih begitu adalah waktu2 yg keren buat motoin alam. Saat pergantian warna dilangit begitu cepat, dalam hitungan detik ambil gambar berkali2, hasil warna bisa berbeda and keren banget. Karena matahari kita yang mulai masuk peraduannya membuat warna2 yg berbeda ketika dia beranjak turun (ceile...sok puitis...!)
Tentu saja aku ambil banyak foto, tapi cuman dua deh yg ditampilin, yang paling disuka dari semua yg tetep disuka juga huehue. Yang pertama itu saat matahari masih diatas, abru mulai turun, wihhh putih lembutnya langit bersatu dg laut...keren! Yang kedua matahari udh makin turun, makin gelap warnanya keren banget.....!
Ayuk cobain nge-shoot alam sore2....pasti keren!
To view more photos, you can visit my
other blog
!